Purchase Now
Victron EasySolar Inverter/ Charger/Controller 48/5000/150-100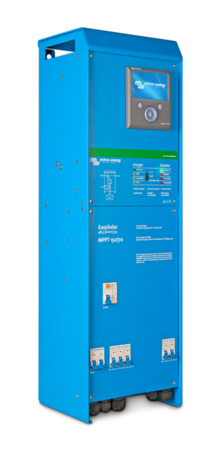 Victron EasySolar Inverter/ Charger/Controller 48/5000/150-100 - Get it now from Leading Edge Power
The Victron EasySolar 5000VA is an all-in-one solar power solution, combining a MPPT solar charge controller, an inverter/charger and AC distribution in one enclosure with remote monitoring capability. The product is easy to install, with a minimum of wiring.
5000VA pure sine wave inverter
70A advanced battery bank charger
Auto-transfer to 230V (shore power or generator)
100A MPPT solar charge controller (5800W)
Integrated RCB's (fuse box) for power distribution
MPPT solar charge control:Based on Victron's BlueSolar MPPT 150/100 solar charge controller, the EasySolar allows you to connect up to 5800W of solar panels. Using Victron's latest, ultra-fast, MPPT algorithms and their unique Battery Life Protection, you will produce up to 10% more charging power than other MPPT controllers.
Pure sine wave inverter:The MPPT charge controller and the inverter/charger share the DC battery connection, so you need only one cable set. When the battery bank is charged, the EasySolar works on DC and provides up to 4000W of 230V continuously. Some electrical items, such as motors, have a power surge when they first start; the EasySolar is designed to cope with short-term peaks of up to 10,000W. When EasySolar detects a 230V input (from shore-power or a generator), it automatically switches away from the DC batteries and uses the AC. This changeover happens in about 12-milliseconds, meaning that even sensitive computer equipment should continue running seamlessly. When using AC, the EasySolar feeds up to 16A directly into your electrical system and uses any surplus power to boost charge the batteries.
Battery charger:EasySolar has an integrated 70A charger for the main battery bank.
230V AC distribution:If you are fitting 230V for the first time, you would normally need to fit a consumer unit (fuse box) and RCB's. However, EasySolar makes this even easier than ever, by integrating all of the necessary RCB's. There are four separate AC outputs, all with their own RCB. One of these is only active when shore power or a generator is connected - the other three are permanently active.
Color Control panelTwo outstanding functions:
Prioritizes battery charging by the MPPT charge controller
Connects to the internet, enabling remote monitoring (VRM website) and remote control.
AC distributionThe AC distribution consists of a RCD (30mA / 63A) and four AC outputs protected by two 10A and two 16A circuit breakers. An additional 16A output is controlled by the AC input: it will switch on only when AC is available.
PowerAssistUnique PowerAssist technology protects the utility or generator supply from being overloaded by adding extra inverter power when needed.
Unique solar application softwareSeveral software programs (Assistants) are available to configure the system for various grid interactive or stand-alone applications. Please see http://www.victronenergy.nl/support-and-downloads/software/