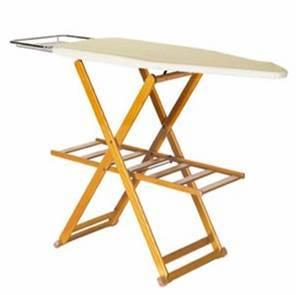 Kandu Luxury Wooden Ironing Board - Get it now from Kandu-Furniture Ltd
This gorgeous luxury wooden ironing board is the 'crème de la Crème' of all boards and comes complete with an extremely stylish yet durable cover.
The solid wood ironing board has been expertly crafted to provide a strong, sturdy and lasting unit. This wooden ironing board has a perforated metal surface that has been specially treated to prevent any rust whilst allowing steam to escape during ironing. The board itself is approximately 45cm wide, which helps to speed up the time it takes to iron each article of clothing and is especially useful when ironing sheets and other large items.
It has 8 adjustable height levels ranging from 83cm to 99cm to cater for all different sizes of the person and their styles of ironing. This ironing board features a chromed steel metal cradle to hold the iron, it is even large enough and strong enough to take the new type of iron with the reservoir.There is a large wooden storage shelf that is located beneath the board.
There are non slip protective plastic caps on the base of the legs to prevent any slipping or damage to floor surfaces. Once finished with the unit can be easily and smoothly folded neatly away for storage.
Dimensions:
Length: 1.50m Width: 45cm Height: (Adjustable) 83cm - 99cm Weight: 11.5 kgs