Purchase Now
Hotline Electric Fencing KB15 Corner Bolt-On Insulator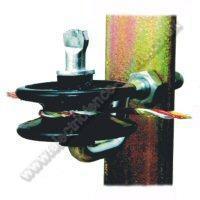 Hotline Electric Fencing KB15 Corner Bolt-On Insulator - Get it now from Inavata T/as Electric Fence Online
KB15 is a strong, long lasting insulator for angle steel posts that can be used for both corners and ends of the fence line; This insulator is identical to the screw-in KS15 for wooden posts, except this one is fitted to a bolt.
Supplied with hexagonal nut.
Suitable for electric fences constructed using:
Wire: Yes
High Tensile Wire: No
Polywire: Yes
Electro-Rope: Yes
Electro-Tape: No
Please review the above materials in the
Wires and Tapes section.
KB15 Insulators are sold in singles