Purchase Now
Concept Research Pest Deterrents Mole-Watch Ultrasonic Mole Deterrent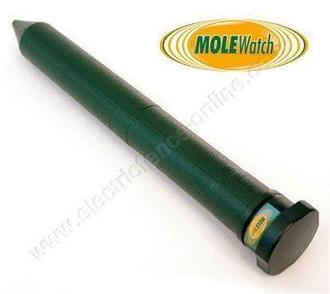 Concept Research Pest Deterrents Mole-Watch Ultrasonic Mole Deterrent - Get it now from Inavata T/as Electric Fence Online
The unique ultrasonic Mole-Watch mole deterrent evicts moles, voles, shrews and other burrowing pests from your garden, for good!
Mole-watch produces a high frequency noise signal (300 Hz) which causes moles and other rodents discomfort. The noise does not harm the animals in any way and does not affect household pets, worms and garden wildlife.
Installed by simply pushing it into the ground, the Mole-Watch mole deterrent protects an area up to 1000sqm and operates continuously for up to 6-months on one set of batteries.
As with all ultrasonic pest deterrents, it takes a little time for the animals to 'learn' to stay away from the protected area. Typically, Mole-Watch will start to clear the protected land after 5-7 days, but in some cases, it could take up to 6-8 weeks for the full deterrent effect to be seen.
Main features:
Suitable for moles, shrews, voles and other burrowing rodents
Completely harmless to pets, worms and other wildlife
Environmentally friendly and humane - no poisons or traps
Protects an area of up to 1000 sq. metres
Installed in seconds
Batteries last up to 6-months
Full weatherproof and maintenance free