Purchase Now
Hotline Electric Fencing Electric Fencing Tube Insulator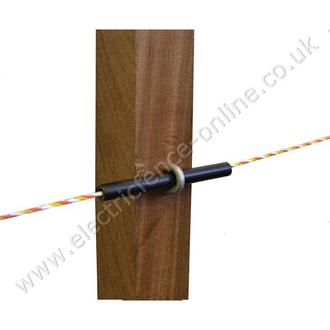 Hotline Electric Fencing Electric Fencing Tube Insulator - Get it now from Inavata T/as Electric Fence Online
Tube Insulators suitable for all wire up to 3mm diameter. Designed for use on permanent electric fences these tube insulators are perfect for wooden posts, particularly where encroaching vegetation may be an issue.
The tube insulators are available in packs of 10cm lengths for individual posts and also in single 2m lengths that you can cut to size or perhaps, if you need to continue the fence line through an obstical such as a bush, or hedge and don't wish to terminate the fence line either side and use lead out cable etc.
Easy to fit to wooden posts, simply hammer into the post using fence staples (not supplied).
For bigger jobs, a 30m roll of 10mm diameter insulator tubing is also available (see main insulator page).
Suitable for electric fences constructed using:
Wire: Yes
High Tensile Wire: Yes
Polywire: Yes
Electro-Rope: No
Electro-Tape: No
Please review the above materials in the Wires and Tapes section.