Purchase Now
Hotline Electric Fencing Plastic In-Line Tensioner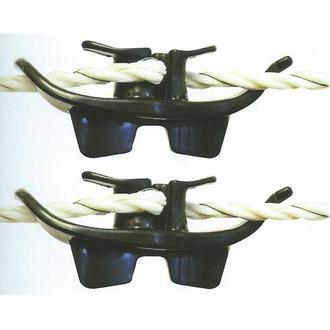 Hotline Electric Fencing Plastic In-Line Tensioner - Get it now from Inavata T/as Electric Fence Online
Plastic In-Line Tensioner from Hotline for Polywire and Rope fences. Supplied in pairs and very handy to have a few readily available, for quick adjustments to your fence.
The tensioner is designed to simplify the task of quickly tensioning a Polywire or Rope line and can be used with a large screwdriver for extra leverage, or simply by twisting with your fingers. The tensioner is manufactured using high grade, durable and long lasting plastic and the in-line tensioner is suitable for any fence line materials of up to 7mm diameter.
This Tensioner is most suitable for electric fences constructed using:
Wire: Yes, but better alternatives for long term use such as Aluminium In-Line Tensioner.
High Tensile Wire: No
Polywire: Yes - Best
Electro-Rope: Yes
Electro-Tape: No
Sold in packs of 2
Please review the above materials in the Wires and Tapes section.