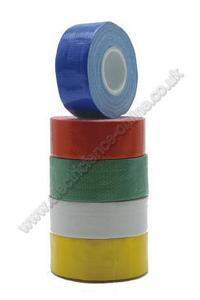 Hotline Electric Fencing Tail Tape - Get it now from Inavata T/as Electric Fence Online
Waterproof cloth tape, very helpful for animal identification. This is an extremely strong adhesive tape that would be suitable for many applications, indoor and out. In the electric fencing world it is referred to as tail tape and is often used to identify animals in a flock/herd.
Supplied in convenient 10m rolls in five colours - Red, Blue, Green, Yellow and White.
Sold singularly, packs of 5 (1 of each colour) & packs of 10 (2 of each colour).
Click here to review our full range of electric fence accessories.