Purchase Now
Gallagher Electric Fencing Smartreader R Series Portable EID Reader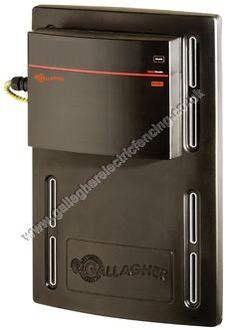 Gallaglher Electric Fencing
Gallagher Electric Fencing Smartreader R Series Portable EID Reader - Get it now from Gallaglher Electric Fencing
Controller R series RDR
This high quality permanent, but portable EID reader controller is fully ISO compliant (HDX and FDX) and Auto Tuning. The controller requires an external power source (12V or 220V optional) and Antenna (not included). For security and easy storage, the controller can be unhooked from the antenna panel and with additional 600 or 1300 antenna panels, can be used at multiple sites.
High quality removable panel reader for livestock identification.
Reads both full duplex (FDX-B) and half duplex (HDX) electronic tags.
Remove the controller for security, convenient charging and memory download.
Features
Plug reader into weigh scale for scanning and weighing
Permanent EID reader controller, full ISO compliant (HDX and FDX).
Requires external 12v power source (not supplied) or 220V optional.
Controller can be unhooked for easy storage.
Blue tooth option for wireless communications to weigh scale.
Requires
Tough one piece fully sealed antenna sold separately.
Configuration for the 600 or 1300 panel antenna.
Use with 600mm panel for constrained weighing of sheep or cattle in crate, or 1300mm for dairy or other walk past identification applications.
Automatic antenna tuning.
Read range up to 1m for 600mm panel
Read range up to 1.2m for 1300mm panel
Additional antenna panels can be purchased separately for multiple sites. Simply move the controller from one antenna to another.
Antenna not included