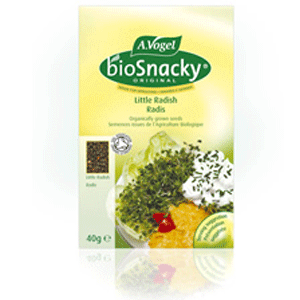 Little Radish Seeds - Get it now from Detox Products
With BioSnacky seeds it is easy to grow crisp, fresh sprouts on a daily basis. Little Radish sprouts complement light meals at any time of the year. The strong, spicy taste gives a distinctive flavour to salads, soups, dips and many other dishes. Little Radish sprouts are an excellent source of vital nutrients and contribute to healthy, balanced nutrition.
This strong, spicy tasting sprout contains potassium, calcium and sulphur, as well as vitamins A and B.
A.Vogel BioSnacky Seeds:
Ideal for sprouting
Organic
GM-free
Before sowing, rinse thoroughly in fresh water. For best results sow seeds thinly. Germination time may vary with temperature.
Per Tray / Jar - 1.5 tbsp. of seeds
Temperature - 18-22° C
Watering - Twice daily
Ready To Eat - After approx. 4-5 days
Ingredients: Little Radish seeds*. (Raphanus sativus) *organically grown.
For more information on how to sprout seeds click here
Store in a cool, dry place out of direct sunlight. All BioSnacky seeds are organically produced, GM-free and non-irradiated.