Purchase Now
BMW E39 5 Series Saloon Boot Liner (1995 - 2003)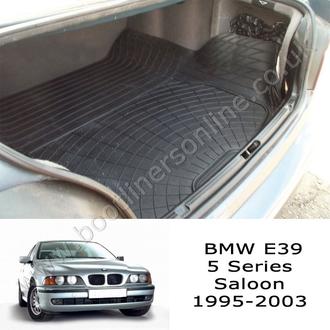 BMW E39 5 Series Saloon Boot Liner (1995 - 2003) - Get it now from Boot Liners Online
Boot Liner for BMW 5 Series E39 Saloon models built between 1995-2003.
This hand cut boot liner will line your BMW 5 Series E39's boot space precisely as pictured. The mat is the perfect choice of liner that you can rely on to protect your carpet and ensure your BMW's boot remains in pristine condition.
The liner is produced using 100% natural rubber to create a durable mat that is perfect for use as a boot liner and it will protect your boot from almost any mess, whether caused by animal, vegetable or mineral.
The rubber liner has a high friction surface, which helps ensure the contents of your boot will stay in place while you're driving normally, helping to keep your boot tidy as well as clean. The liner surface also makes journeys safer and more comfortable for your dog as the boot liner provides a sure footing …
The boot liner is cut with a slight overlap, which will help ensure that the liner contains any accidental liquid spillage and the rubber mat is highly resistant to spillages of oil, water and chemicals. If you do experience a spill, or if the liner simply needs a clean, just roll it up and remove for a quick clean using soap and water.
Protects your BMW E39 5 Series Saloon boot space and keeps it clean.
Easy to fit and remove for cleaning.
Non-slip surface ideal for pets and/or other contents.
Rolls up for storage.
100% Natural Rubber.
Hand cut to line your boot as pictured.