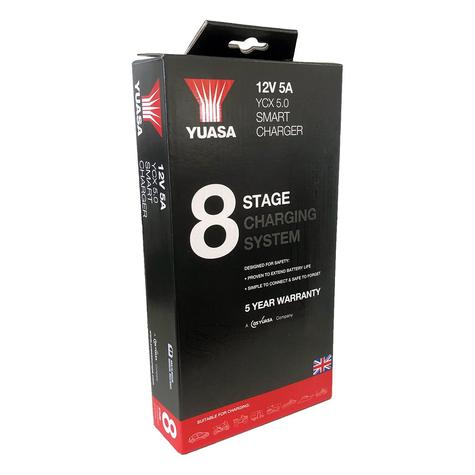 Yuasa YCX 5.0 12v 5A 8 Stage Smart Charger - Get it now from Battery Charged
The Yuasa YcX 5.0 – state of the art Smart battery charger Identifies and rectifies battery-related problems including high demand AGM batteries.
The Yuasa YCX 5.0 is a fully automatic 8-stage Smart Charger delivering selectable 0.8A or 5A to 12V batteries from 1.2 – 110Ah and is suitable for maintenance charging up to 160Ah including high demand AGM batteries.
Robust, splash and dust proof ( IP65 classi cation) and designed to protect vehicle electronics this Smart Charger is, spark free, protected from polarity reversal, short circuit proof and comes with a 5 year warranty.
The YCX 5.0 has a unique display – allowing the user to follow every stage of the entire charging process, With full diagnostic capability it automatically tests the battery indicating, via clear LED read out, the battery condition and suitability for charging, the ability hold the charge and, therefore, whether the battery needs replacement. It also features a battery reconditioning function to restore strati ed and deeply discharged batteries and a unique maintenance charging programme which are designed to extend life and battery performance. The in-built temperature sensor guarantees optimised charging performance whatever the weather.