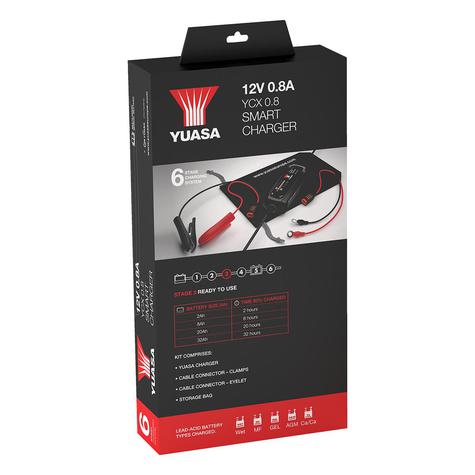 Yuasa YCX 0.8 12v 0.8A 6 Stage Smart Charger - Get it now from Battery Charged
The YCX 0.8 – Yuasa's smallest state of the art Smart Charger. Perfect for charging smaller 12V batteries including motorcycles, jet skis, ATVs and lawnmowers. Suitable for maintenance charging 'normal- sized' car, LCV and leisure batteries.
The Yuasa YCX 0.8 is a compact and fully automatic 6-stage charger for 12V batteries from 1.2 – 32Ah and is suitable for maintenance charging up to 100Ah.
Robust, splash and dust proof ( IP65 classi cation) and designed to protect vehicle electronics this Smart Charger is, spark free, protected from polarity reversal, short circuit proof and comes with a 5 year warranty.
The YCX 0.8 has a unique display – allowing the user to follow each stage of the charging process. It automatically tests the battery indicating, via clear LED read out, the battery condition and suitability for charging, the ability hold the charge and, therefore, whether the battery needs replacement. It also features a unique maintenance charging programme designed to extend life and battery performance.