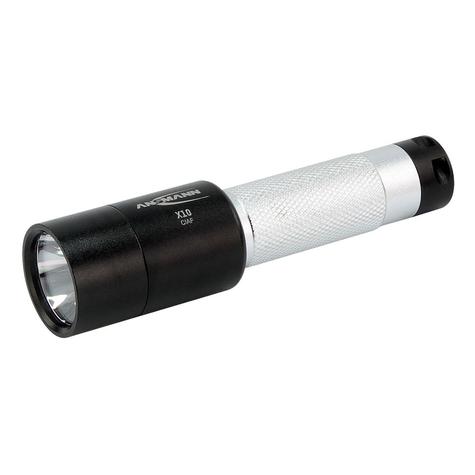 Ansmann X10 LED metal torch - Get it now from Battery Charged
Multi-purpose and handy
The small and handy LED torch X10 from ANSMANN in our optimal housing with easy to handle surface. With the large switch the torch is easy to operate single handed, even with gloves on.
Optimised for eyeryday use in the home, garden and car
With up to 22 hours use with one battery, sufficent lighting up to 25 lumens, and a lighting distance up to 50m this LED torch X10 is optimised for everyday use in the home, garden, garage or in the car. It is also excellent value for money.
Efficent "cat`s eyes" system and splash protected casing
The LED torch X10 is provided with an efficent "cat`s eyes" system. The shockproof aluminium housing in attractive black/silver ANSMANN design is splash protected and strong, giving a great lamp for a small price. Delivered with one Alkaline Mignon AA battery and a wrist strap.
The ANSMANN Germany manufacturer garantee is 2 years