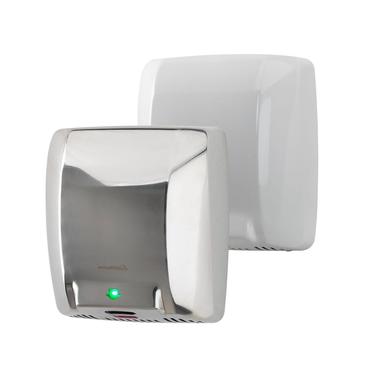 Armadillo Vandal Proof Hand Dryer - Get it now from Handy Dryers
The Armadillo – our toughest dryer
Built like a tank
Capable of withstanding constant use, this high speed hand dryer is no stranger to hard work – it has real grit.
Engineered for strength and reliability over a long lifespan, the Armadillo is made with the most durable materials we could source.
A strong, 1.5mm thick outer shell makes it the vanguard of vandal-proof washroom technology.
An external grille protects the air nozzle, keeping the Armadillo's precious components safe and sound.
The durable wall plate keeps this dryer stuck to the wall, making it nearly impossible to dislodge.
The ultimate defensive dryer for remote or unattended washroom locations such as service stations or public lavatories, the Armadillo shines in challenging environments such as schools, hospitals, pubs and bars, where footfall and rough treatment are a daily challenge.
High speed
Unlike a tank, the Armadillo is a super speedy unit. Fitted with highly advanced airflow technology, this model is a best-seller due to its ultra-fast drying time of around 10 seconds per use.
Leaving barely one drop of residual skin dampness after use, this sturdy dryer provides an unmatched service, time after time.
Easy to accommodate
Does your washroom have a few tight spots? Fear not. The Armadillo is easy to install in the smallest of bathrooms, with a wall plate sized at 280 x 325 x 185mm.
At such a compact size, this hand dryer could open up a world of possibilities during a bathroom refurbishment.
Bang on trend
Polished to perfection – the Armadillo's stainless steel armour isn't just tough, it's a stunning sight to behold.
This dryer will provide an instant style upgrade to your washroom, or a complementary addition to already swanky surroundings.
Our two-year warranty
This hand dryer comes with our seal of quality approval and a two-year warranty, including free parts and labour should you need it repaired within the first year of purchase.